George Washington Candle Wall Sconce Mirror by Tiffany & Co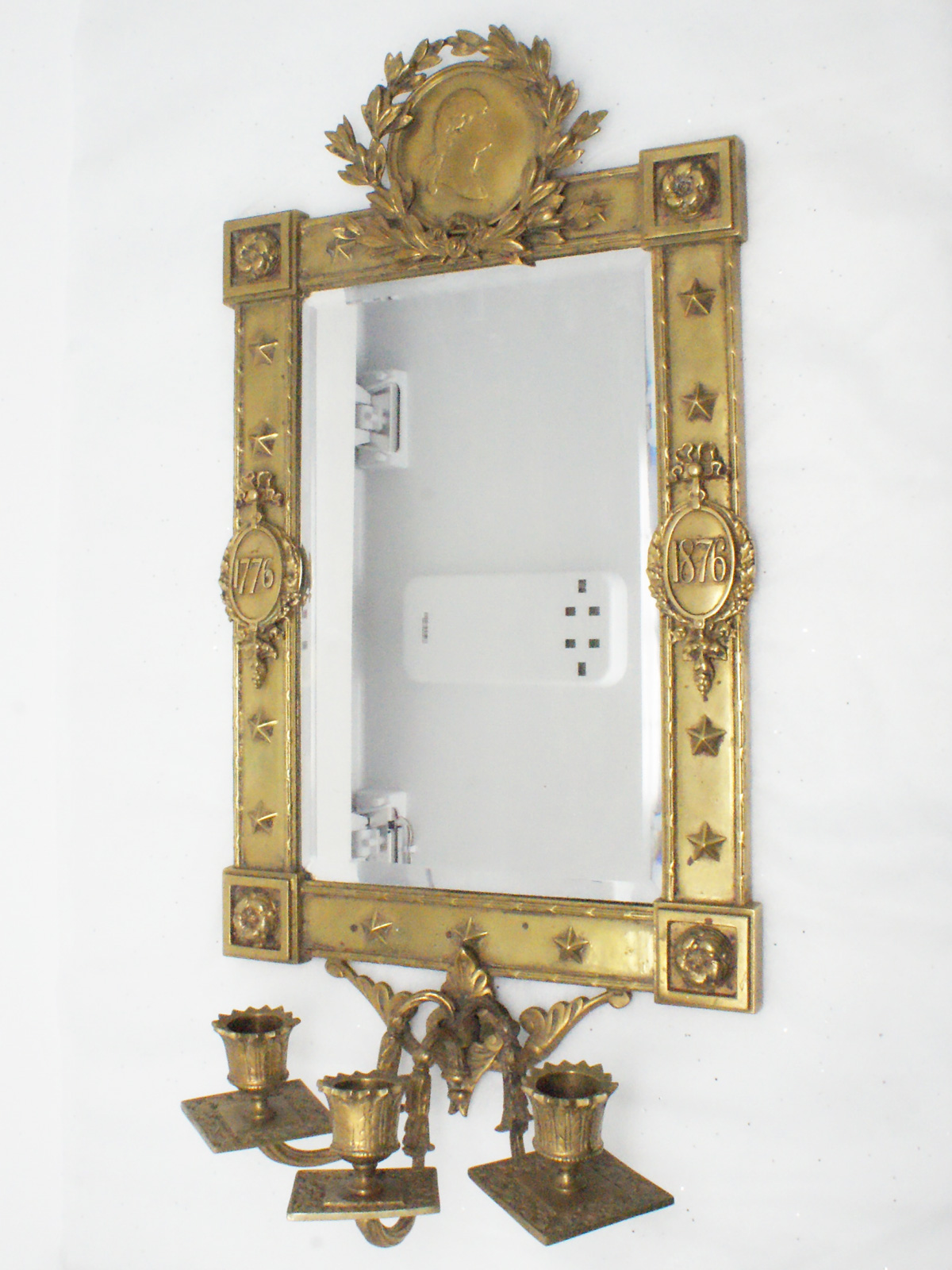 The Centennial International Exhibition of 1876, the first official World's Fair in the United States, was held in Philadelphia, Pennsylvania, from May 10 to November 10, 1876, to celebrate the 100th anniversary of the signing of the Declaration of Independence in Philadelphia. Officially named the International Exhibition of Arts, Manufactures and Products of the Soil and Mine. Tiffany & Co. was an exhibitor that displayed their wares in art glass, jewelry, ceramics and metalwork.
Recognized as the Father Of Our Country, George Washington was a predominant theme among the artwork displayed at the fair. This gilded bronze candle sconce was made specifically for the 1876 Centennial Exhibition and was displayed as a tribute to our first President in Tiffany & Co's display of wares.
This very rare mirrored wall sconce has a wreath surrounding a medallion depicting a bust of George Washington. This image of George Washington was modeled after the famous bust made by Jean-Antoine Houdon in 1786. On the left and right sides are two more medallions, one with '1776' the other '1876'. There are 13 stars around the entire frame. The silvered beveled mirror is original and in very good condition. The back of the sconce is engraved with 'Tiffany & Co', '0478 MAKERS 7481', 'M', and hand scribed with '1723'. No damage, no repairs. This gilded bronze sconce features a federal style design and is a rare Americana artifact
The rectangular frame measures 13.5″ tall by 9.5″ wide. The overall height including the medallion and sconces is 19.5″. The sconce weighs 7.5 pounds.